1600cfm
R38
Attic
Fan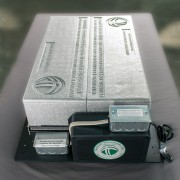 Dimensions:
0.00cm x 0.00cm x 0.00cm
Tamarack HV1600 CFM with R-38 Self-Sealing Doors for Homes up to 2,000 Square Feet.
The HV1600 is California Title 24 compliant and listed on the California Energy Commission appliance efficiency directory.
The only brand with R38 or R50 Insulated self-sealing doors.
2-Speed 1,000**/1,600** CFM Radio frequency remote control.
Vertical (inside attic wall) or Horizontal (inside attic floor) installation.
Save energy costs and helps reduce your carbon footprint.
UL Component UL Listings; E115252, E20888, E170149
Includes interior grille, 6' power cord and a radio frequency remote control.
Installation instructions include an optional hardwire configuration for fan operation: Recommended controls are an SPST wall switch, or a non-digital spring wound mechanical timer. All other controls will void the product warranty.

Specifications:
Electrical Voltage 115 VAC 60Hz
Power High Speed 230 WATTS / Low Speed 207 WATTS
Air Flow High Speed 1600 CFM* / Low Speed 1150 CFM*
Operation 30 Second Door Delay Before Fans Start
Insulation Value of Closed Doors R50
Weights Whole House Fan: 28 Lbs.
Rough Opening 14 1/2" x 22 1/2"
Interior Grille Outside Dimensions: 15 3/4" x 25 3/4"
Color: White
Attic Ventilation Requirements 5 square feet.
There are no reviews for this product.