Air
Pohoda
Filters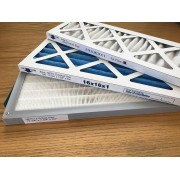 Dimensions:
16.00in x 8.00in x 6.00in
The filter replacements are for the Air Pohoda ERV Device. Sold as 2 sets so all filters in the units are replaced at the same time to ensure optimal indoor air quality in the home.
The Air Pohoda Filters include:
8x16x1, MERV 8
8x16x1, MERV 13
6x16x1, MERV 8
There are no reviews for this product.