Air
Pohoda
Filters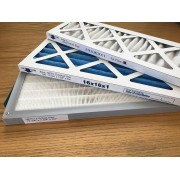 Dimensions:
16.00in x 8.00in x 6.00in
The filter replacements are for the Air Pohoda ERV Device. Sold as 2 sets. Three filters are needed to replace all filters in the units at the same time, to ensure optimal indoor air quality in the home. Six filters total.
One set of Air Pohoda Filters includes:
8x16x1, MERV 8 - winter filter for supply or exhaust - $17
8x16x1, MERV 13 - summer pollen filter for supply only - $22
6x16x1, MERV 8 - bypass filter used in summer only - $15
There are no reviews for this product.