Comfopipe
ducting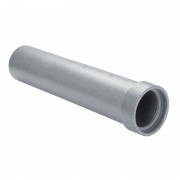 Dimensions:
39.00in x 0.00in x 0.00in
Insulated Expanded PolyPropylene (EPP) ducting allows for easy installation of intake and exhaust ducts. Available in 39″ straight sections and 90-degree bends, each piece comes with a single connection sleeve. ComfoPipe is available in 6″ diameter for the ComfoAir 200 and 350 units and also 7″ diameter for the ComfoAir 550.
Dimensions: Material thickness: 0.60"
Thermal conductivity: 0.037 W/mK
Applications: -13°F to 140°F
Elasticity: 30%
Weight: 0.36 lb./ft.
(45° bend 0.2lb)
(90° bend 0.3 lb.)
There are no reviews for this product.