Duplex
-
double
sided
tape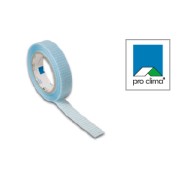 Dimensions:
5.50in x 1.00in x 5.50in
5 or more $10.96
30 or more $10.14

DUPLEX is double sided airsealing tape for durable interior airtight connections between intelligent vapor membranes, aluminum foils, plywood, OSB, wood, hard plastics, steel and metal studs.
• Exterior windtight and waterproof connections of Solitex membranes and other weather resistant barriers to each other and to solid substrates.
• To finish folded loops at windows and doors of Contega SL, FC.
• Adhesion by age-resistant, solvent-and plasticizer-free acrylic – waterproof.
• DUPLEX Application tool allows one handed application (apply, press down and cut off in one motion) – for use with 65' (20m) rolls only.
• 60+ year life expectancy.
Dimensions
Roll width: 1" (25mm)
Roll lengths: 65'-6" (20m)
There are no reviews for this product.